John Kirscht Jr., PTA
Waldorf Clinic Manager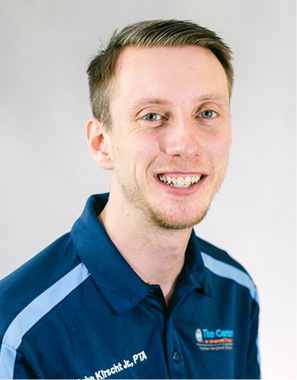 John Kirscht Jr., originally from Southern Maryland, is a 2019 graduate of the CACHE Physical Therapist Assistant program through the College of Southern Maryland. John was excited to start his Physical Therapist Assistant (PTA) career with the Southern Maryland Physical Therapy Division of The Centers for Advanced Orthopaedics (CAO) the summer of 2019.
Education
John attended college at the College of Southern Maryland starting in fall of 2014.  John has always felt passionate about sports, exercise, and helping others.  This inspired him to pursue his first Associate degree in Exercise and Sport Science, which he completed in 2017.   John decided to develop himself further and petitioned into the Physical Therapist Assistant program, through the Chesapeake Area Consortium for Higher Education.  In addition to staying active within the program itself, he completed various clinical rotations which included experiences in both inpatient and outpatient physical therapy settings.  These valuable rotations exposed him to a variety of pathologies and rehabilitative methods.  The cumulative experiences helped him determine that he felt most strongly about working in an outpatient clinic.  Following graduation from the program in May of 2019, John earned his second associates degree and completed his national licensure exam, and became a practicing Physical Therapist Assistant in July of 2019.
Experience
Since graduation, John has maintained a hunger for knowledge, and stayed focused on improving the care he provides his patients.  A member of the American Physical Therapist Association, John has completed his certification in Blood Flow Restriction training, and the Champion Performance Specialist (CPS) program, offered by the renowned Mike Reinold out of Boston. The CPS program is a comprehensive system for rehab and fitness professionals to learn how to assess, optimize, and enhance movement-based performance.  Moving forward John looks to further expand his abilities in with post-operative and orthopedic rehab management, with a focus on manual therapy and targeted exercise prescription.
Philosophy
John's treatment philosophy implements a personalized approach to meet the needs of each patient on an individual basis.  He looks to achieve this by taking the time to get to know his patients specific goals, challenges, and limitations.   He is grateful to work at CAO where he can invest time in coordinating with the industry leading surgeons, Physical Therapists, and peers to help patients reduce their dysfunction, pain, enhance their quality of life, and improve their functional outcomes.
Personal life
John was born and raised in Charles County. In his spare time, he enjoys spending time with his grandpa, cars, staying active outdoors, and is an avid Indianapolis Colts fan.