Erica Kiessling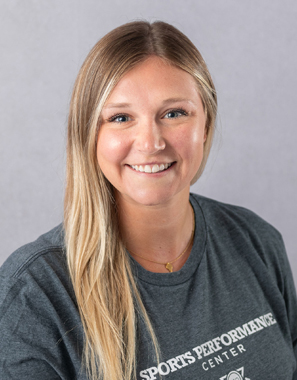 Erica was a former Athletic Trainer who joined the Centers for Advanced Orthopedics to help develop the company's Sports Performance program.   She has a wealth of knowledge rooted from her years on the field.  Through that experience, and her own passion Erica is looking forward to helping athletes to reach their peak performance within their sport.   She recognizes that the work athletes put in off the field can translate to huge dividends on the field, and its her hope to be a resource for the athletes of SOMD to set themselves apart as they drive towards excellence.
Education
Erica was born in Washington DC, and raised in North Carolina.  She graduated from Fuquay-Varina High School in 2014, which led her to attend Wake Technical Community College, where she earned an Associates degree of Science in 2016.  From there she progressed her academic career when she attended Shaw University,  she graduated in 2018 with her Bachelor's Degree in Exercise Science. After taking a gap year working at a doctors clinic, she went on to pursue her Masters in Athletic Training at Bridgewater College, and then transferred to chase her dreams and finished her Master's at Florida International University in 2022.
Experience
While in graduate school, Erica worked at the NFL Flag Football Tournament in Tampa, FL 2020. She then volunteered her time to work with the Jacksonville Rugby Football Club. And completed her rotations with Cleveland Clinic, Belen High School, FIU Football team and Men's Basketball. Two months before graduating, Erica went on to complete an internship with the Buffalo Bills NFL Team. She worked with the team from July to September during pre-season training and pre-season games. Afterwards Erica went on to work at Kansa's Wesleyan University where she continued her Athletic Training work with the Football team as well as 9 other teams, including the women's volleyball team who won Conference Championship 2022-2023!
Philosophy
Erica believes that every athlete has the potential to achieve a higher performance goal and to maximize their strengths and abilities. She understands that athletes often plateau in their training.  However, she feels that a periodization based program rooted in the fundamentals of training, can knock down those "walls" that prevent an athlete from reaching the next level.  Erica has seen athletes succeed and seen them fail and through that experience she has identified several core tenets that make someone successful: Nutrition, Dedication, Mental Fortitude, and Consistency.  She feels that if an athlete is willing to work with her on addressing those pillars then anything is possible.
Personal
Erica in her free time loves finding new adventures while being outdoors. This includes traveling to find new farmer's markets and hiking areas, to finding new beaches she can enjoy. Erica does all of this now with her newest member of the family, Yeager (named after Chuck Yeager), a Golden Retreiver. She also is very creative in her free time from finding art projects to writing children's books.