Caitlyn Schaeffer, PTA
Staff Physical Therapist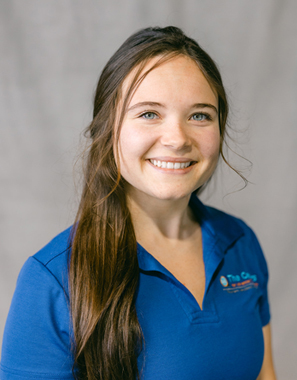 Caitlyn Schaeffer was born and raised in Southern Maryland where she was homeschooled along with her 3 sisters. She has lived an active lifestyle caring for farm animals, riding horses, making her own Ninja Warrior courses, swimming, and helping out with the family business. After working small jobs until age 15, she soon made her way to the College of Southern Maryland (CSM) and worked as a lifeguard and pool operator at the La Plata campus. It was there that she met her now husband, Noah, and fell in love with therapeutic exercise after becoming a certified water aerobics instructor.
Caitlyn instructed water aerobics classes for several years while she attended dual-enrollment college courses to meet the prerequisites of the local Physical Therapist Assistant Program.
Education
Caitlyn is a recent graduate of the Chesapeake Area Consortium for Higher Education (CACHE) Physical Therapist Assistant Program. During her time in the program, she obtained experience in both outpatient and inpatient settings, where she treated complex orthopedic conditions of the shoulders, spine, hips, knees, and ankles. One of her four clinical rotations was with CAO where she learned hands-on orthopedic skills and treatment techniques from Deanna Kelly, one of CAO's PTAs.
Experience
Before joining the CAO team, Caitlyn worked as a PTA for Medstar NRH. During this time she gained experience treating neurological conditions such as guillain barre, multiple sclerosis, CVA, ALS, cerebral palsy, spinal cord injuries, and TBIs. She also grew a love and interest for treating patients with amputations, which included prosthetic training and proper care of residual limb.
Philosophy
Caitlyn's treatment approach is based on personalizing each treatment session to meet the individual needs of every patient. She chooses her interventions based on evidence-based research, patient goals, and through collaboration with her peers at CAO. She enjoys learning something new every day and applying new knowledge to every treatment session. Caitlyn's goal is to have every patient leave their PT appointment with a smile and feeling that they were well cared-for.
Personal
Caitlyn loves accomplishing something new every day, whether it be restoring old vehicles with her husband, or crocheting blankets. Caitlyn enjoys hunting, fishing, shooting at the range, gardening, and camping in her & her husband's homemade camper.
She is excited to continue her career as a PTA with CAO and eager to help patients achieve the best version of themselves.