Nathan Elliott, PT
Staff Physical Therapist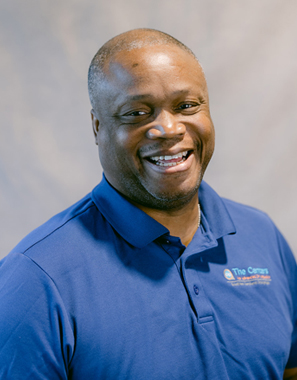 Nathan Elliott is a physical therapist located in Waldorf who specializes in treating sports injuries, ankle, shoulder, knee, back, hip, neck stiffness, dysfunction and pain. In addition, he has served as a member of the U.S. Navy as a Hospital Corpsman achieving the rank of 3rd Class Petty Officer initially spending 1-1/2 years at the Naval National Medical Center in Bethesda, Maryland and 2-1/2 years as a Field Medical Specialist at the Marine Corps Base, Camp Lejeune. He also has worked full time and more recently prn at Montgomery Village
Education
Nathan initially received his medical training as a Hospital Corpsman while in the U.S. Navy. HE graduated Howard University where he received in 1992 his Bachelors of Science In Physical Therapy. Nathan has completed continuing education courses in various orthopedic areas.
Experience
Since graduation, Nathan has worked in various rehabilitation settings, inpatient hospital, short term rehabilitation, long term care, skilled nursing, pediatrics, adult day treatment as well as outpatient settings. In August 2022, he joined The Centers for Advanced Orthopaedics.
Philosophy
Nathan's treatment approach is to focus and treat the underlying cause of injury as well as any accompanying symptoms. Also, to inform the client about activities which have led to their problems and how to prevent or reduce those problems in the future.
Personal life
Nathan's lifestyle. In his spare time, he enjoys spending time with his wife of 32 years, his daughter, son and his great niece.