Neil Brown, PT, MPT, LAT, ATC
California Clinic Manager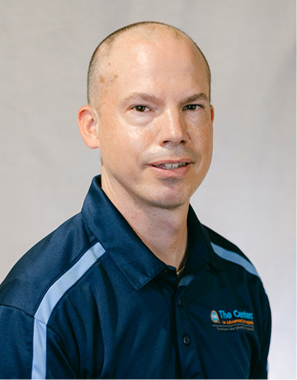 Neil Brown is a physical therapist and licensed athletic trainer that joined The Centers for Advanced Orthopedics (CAO) in 2021. He specializes in the treatment of post-surgical and non-surgical orthopedic and sports related injuries. In addition to providing patient care he is currently the Clinic Manager of The Centers for Advanced Orthopedics (CAO) California, Maryland physical therapy office.
Education
Neil Brown attended the University of Dayton where he gained a Bachelor of Science degree in Exercises Science and a Certification in Athletic Training, which required 1500 hours working as a student under the school's nationally certified athletic training staff. He continued his educational tract at Andrew's University where he gained a Master's degree in physical therapy. Since graduating in 2001, Neil has attended multiple continuing education courses and seminars that have focused on topics ranging from manual therapy skills to post-surgical rehab techniques. In addition, Neil completed his Certification in Dry Needling from the Dry Needling Institute with addition training in this topic from both Kinetacore and Myopain seminars.
Experience
Neil currently has twenty years of experience working in outpatient physical therapy clinics, with the last 19 years being in the Southern Maryland region. After starting as a staff physical therapist for the first six years of his career, Neil advanced to clinic manager of an outpatient clinic in Waldorf, Maryland for the past 13 years, where he helped the clinic capture The Independent (newspaper) Reader's Choice Award for Best Physical Therapy Clinic in Southern Maryland for 2018. Neil also has 10 years of experience as the Director of Athletic Training services which oversaw athletic trainers in the public high schools in Charles, St. Mary's, and Southern Prince George's counties. His experience made him a natural fit for the CAO Physical Therapy and Sports Performance Center in California, MD.
Awards/Recognition
Neil was named Charles County's Top Physical Therapist by readers of The Independent in 2018. In addition he has been featured in articles in the Baltimore Sun, NATA magazine, Prince George's Suite Magazine, and The Independent. Finally, he was awarded his former employer's Presidents Award for helping to advance their overall mission.
Philosophy
Neil's philosophy when providing treatments to his patients is to develop individualized treatment plans for each patient. Every condition and person is different and therefore the treatment plans need to vary depending on how the patient presents. He believes that each session should include some form of manual treatment and should follow evidence-based practice guidelines. He also believes that treatments should always include the most up to date techniques and he makes sure that he is reading the newest research consistently to accomplish this.
Personal life
Neil spends the majority of his free time with his wife Sarah and their three children Julia, Avery, and Claire Anne. He enjoys being outside with his family riding bikes or exploring a new areas while hiking or traveling. Neil is very sports oriented and can be found watching Penn State football or any of the local professional teams during his down time.