Dee Kelly, PTA
Staff Physical Therapist Assistant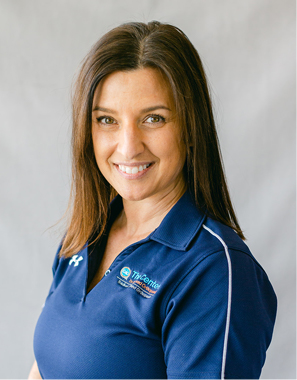 Deanna "Dee" Kelly was born and raised in Madison, CT and she earned her Bachelor's Degree in Communication from Villanova University in 1991; she then worked in the Publishing Field for several years before taking time off from the workforce to start and raise a family. She has lived in many different states throughout the country due to her husband's 20 year career with the Marine Corps. During this time she earned her certifications and worked as a Personal Trainer and Group Fitness Instructor. When she and her family arrived at NAS Pax River, she was accepted in to the CACHE Physical Therapist Assistant program and she completed her Associate's Degree in Applied Science from the College of Southern Maryland in 2011. She then started her career as a PTA.
Experience
Dee worked for MedStar, National Rehabilitation Hospital at their Outpatient Clinic in Hollywood MD for eight years before she joined the CAO Team two years ago. She has experience treating patients in joint replacement, back/neck/spine, post-concussion syndrome, TMD, balance/vestibular training, running injuries and return to sport. She also has experience with Strain Counter Strain, Blood Flow Restriction Training, Kinesiotaping and Graston techniques. Dee enjoys mentoring others and she is a four-time Clinical Instructor for student PTAs. She is a member of the American Physical Therapy Association and in 2018, she was awarded the MedStar NRH Everyday Hero Award; this is presented to four employees each quarter, from over 50 locations, who embody the values of Service, Patient-first, Integrity, Respect, Innovation and Teamwork.
Philosophy
Dee's treatment approach is customer-service focused. She looks at each treatment with fresh eyes on the patients' goals and on their functional limitations. She enjoys teaching her patients about how their bodies work and how to optimize their performance in athletics and in everyday life.
Personal life
Dee works part-time as a personal trainer and group fitness instructor at SPICE Studio in Leonardtown Square. She is also the Founder and Race Director for the Life's Good in LG 5K, since 2012. Dee enjoys cross-training and she has completed multiple Sprint, Olympic and Half Ironman triathlon distances. She lives in Leonardtown with her husband, Brian. Their son is a 1stLt in the USMC, stationed at Marine Corps Air Station in Cherry Point, NC and their daughter is and Associate Account Manager for Sagefrog Marketing Group in Philadelphia, PA.