Danielle Taylor, PT, DPT, OCS
Staff Physical Therapist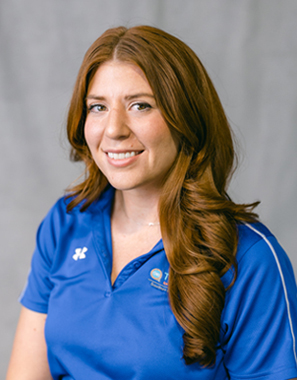 Danielle Taylor is a Doctor of Physical Therapy who specializes in orthopaedic rehabilitation and sports-related injuries. She was born and raised in St. Mary's County and is based in Southern Maryland.
Education
Danielle attended West Virginia University where she received a Bachelor of Science in Exercise Physiology with a concentration in Aquatic Therapy. Danielle then earned her Doctorate of Physical Therapy from George Washington University in Washington, DC. She has completed additional training in instrument assisted soft tissue massage, blood flow restriction and certified in dry needling.
Experience
Danielle has worked in a various outpatient clinics in DC and Maryland mostly specializing in orthopaedics including surgical rehabilitation, musculoskeletal pain, sports injuries and injury prevention. Danielle has also had experience working with other patient populations including neurologic conditions, chronic pain, pediatrics and pelvic floor dysfunction.
Philosophy
Danielle's treatment approach is based on a mix of her past experiences with an emphasis in function-based movement, patient education and manual therapy. Danielle's goal is to meet patients where they are and tailor each patient's treatment to their specific needs and goals and allow them to keep doing what they love.
Personal Life
Danielle and her husband Joe were both born and raised in Southern Maryland and most of their family also live nearby. When not at work, you can find her spending time with family and friends, traveling, trying new restaurants and being active. Danielle loves running, hiking, biking, skiing, camping and is an avid Peloton-er. She also spends most of her free time with her dogs Nelli & Louise by her side. Danielle loves being a PT and serving the Southern Maryland community.