Gillian Kania, PT, DPT
Staff Physical Therapist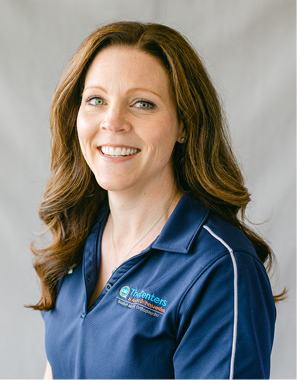 Gillian "Gill" Kania has been a Physical Therapist for over 10 years in a variety of settings.  She has been living and working on Southern Maryland for the last 5+ years.  She joined CAO in early 2021, and is excited to be a part of the team!
Education
Gill completed her undergraduate degree with a Bachelors in Rehabilitation Sciences in 2007 from the University of Pittsburgh, in you guessed it, Pittsburgh, Pennsylvania. She then went on to complete her Doctorate of Physical Therapy in 2010 from Thomas Jefferson University in Philadelphia, Pennsylvania.  She has completed additional training in instrument assisted soft tissue massage, manual therapy, and functional based assessment and treatment techniques.  She has been certified in Dry Needling and was educated through Kineticore starting in 2016.
Experience
Gill has worked in a variety of settings over her career including at the National Rehabilitation Hospital, in the home health setting, a skilled nursing facility, and for the past 5+ years in the outpatient setting including previously holding a clinic management position.  As a Physical Therapist, Gill has worked with patients with conditions ranging from Spinal Cord Injury, Stroke, and other neurologic conditions as well as wide range of post-surgical and orthopedic conditions. Gill also is able to offer her expertise for wheelchair assessments to help patients be custom fitted for the appropriate seating and positioning system.
Philosophy
Gill's treatment approach brings together a mix of her past experiences, an emphasis on function-based movement, and a solid manual approach to instruct and empower each patient to reach their goals.
Personal life
Gill and her family landed here in Southern Maryland via her husband Matt's career in the U.S. Navy.  Since arriving over 5 years ago this place has become home.  She lives with her husband, two boys Mason and Gavin, and their dog Carter Pup.  She genuinely enjoys working as a PT, time spent with her family, and staying active with things like hiking, skiing, and exercise.