Tracey Webster, PTA
Staff Physical Therapy Assistant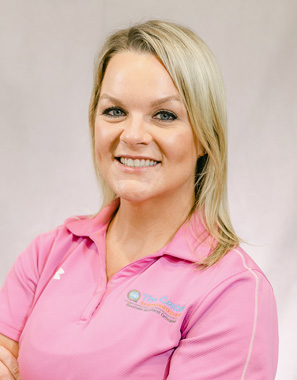 Tracey Webster is a Personal Trainer who joined the Centers for Advanced Orthopedics to help develop the company's Sports Performance program. With 12 years under her belt as a certified trainer, and 5 years of experience as a licensed Physical Therapist Assistant, Tracey is eager to bridge the gap for athletes that have graduated from physical therapy, but are not quite ready to get back on the playing field. She is additionally excited to help healthy athletes take their performance to the next level.
Education
Tracey was born and raised in Southern Maryland, graduating from La Plata High School in 2005. In 2009, she graduated from East Carolina University with a Bachelor's Degree in Exercise Science – Health Fitness Specialist. Tracey decided to expand her education, obtaining an Associate's Degree in Applied Science through the CACHE Physical Therapist Assistant program at College of Southern Maryland/Anne Arundel Community College, becoming a licensed Physical Therapist Assistant in 2016.
Experience
Immediately following graduation in 2009, Tracey became a Certified Personal Trainer through the National Academy of Sports Medicine and has been diligently pushing her clients ever since to reach their highest potential. In addition to training clients in-home, Tracey spent a couple of years working as a Rehabilitation Technician at a local outpatient Physical Therapy clinic in which she assisted patient's through their rehab exercise program. Tracey later went on to become a Recreation Assistant at Naval Base Indian Head where she was in charge of leading fitness classes and screening military and civilian patrons. With these screenings, she further developed exercise programs to not only improve their fitness, but various orthopedic conditions as well. For 5 years, Tracey has been working and expanding her skills as a Physical Therapist Assistant in Southern Maryland in outpatient clinical settings. This allows her to use her knowledge of the physical body and apply it to healing and to stage progressive improvements in her patients' daily lives and well-being. It has been here that she recognizes the opportunity to take her original passion for exercise and fitness and expand it with a more hands-on approach. In 2019, Tracey was asked to develop and lead the personal training program for the SMECO employees as part of their healthcare incentive program which she continues to do now. Through this program, she creates individual fitness plans to help employees develop healthy habits which further promotes increased productivity and decreased absences in the workplace.
Philosophy
Tracey strongly believes that one must crawl, before they can walk, before they can run. She feels as though often times athletes, and people in general, engage in activities that their bodies simply are not ready for. Building the basics and fundamentals is an integral approach that Tracey takes with individuals of all fitness levels to avoid risk of injury and further potential setbacks. Health and fitness has always been her true passion and she strives to instill this in others. "We have one life to live so we should live it well."
Personal life
When Tracey is not busy at work, she thoroughly enjoys staying active and being outdoors. You may find her flipping 300lb tractor tires, or slinging sledge hammers, but she has a true passion for snowboarding, paddle boarding, slow-pitch softball, traveling, and engaging in anything near the water.