Michael Gorze, PT, DPT, CFMA
Staff Physical Therapist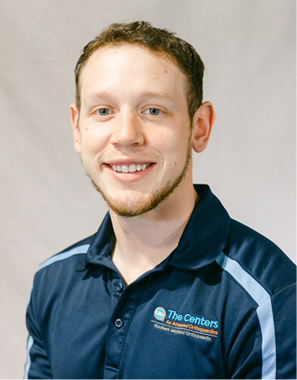 Michael Gorze is a physical therapist located in Southern Maryland who specializes in treating sports injuries, shoulder and knee pain, and conditions of the hip and spine.
Education
Originally from Minnesota, Michael received his bachelor's degree in Kinesiology at MidAmerica Nazarene University in Kansas City, and shortly thereafter pursued and completed his Doctorate in Physical Therapy at Southwest Baptist University in Missouri.
Experience
After graduation, Michael moved to Maryland in 2020 to join the Centers for Advanced Orthopedics, a team of highly regarded surgeons and clinicians that provide the highest level of evidence-based care to their patients and clients. Michael has placed his continuing education focus on IASTM manual therapy treatments, blood flow restriction training, and becoming a Champion Performance Specialist (C-PS).
Philosophy
His treatment style is focused on active movement and exercise, while providing manual therapy techniques to enhance the rehabilitation process. Michael designs individual programs that are unique to each patient's needs and gives patients the tools and knowledge to help patients reach their goals.
"Be about it" is a saying he lives by and believes that all clinicians should practice what they preach by maintaining an active lifestyle. He will never give you an exercise he cannot perform himself!
Personal life
As a former college baseball athlete, Michael enjoys remaining active. He is passionate about strength training and maintaining a high level of fitness. He also enjoys watching sports, fishing, and hiking outdoors. Michael is the current CAO Southern Maryland Division arm wrestling champion, after defeating his peers and showing no mercy.