Rebecca Lynch, PT, DPT, OCS
Staff Physical Therapist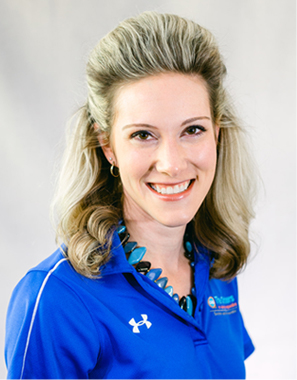 Rebecca Lynch is a physical therapist based in Southern Maryland (SOMD) who specializes in the evaluation, treatment, and rehabilitation of complex orthopedic conditions of the spine, upper/lower extremities, sacroiliac joint (SIJ), and temporomandibular joint (TMJ), non-operative and pre-/post-operative cases, and athletes of all ages. She has treated patients with neurological pathologies, and worked with pediatric patients in hippotherapy.
Education
Rebecca attended Saint Francis University where she received her Bachelor of Health Science and Bachelor of Exercise Physiology degrees. She continued her educational path at Saint Francis University, earning her Doctorate of Physical Therapy (DPT) in 2015. Rebecca further advanced her clinical skills by completing an Orthopedic Residency program and becoming a Board Certified Orthopedic Clinical Specialist in 2018. She continues to embrace ongoing education by mentoring students as an APTA Credentialed Clinical Instructor and participating in a variety of courses. She most recently completed Blood Flow Restriction Training and Champion Performance Therapy & Training Specialist courses. Rebecca mentored physiotherapy faculty members and students at Kenya Medical Training College in Nairobi, Kenya.
Experience
Since earning her degrees, Rebecca has worked in outpatient orthopedic clinics with exposure to basic and complex conditions using varied treatment approaches. She joined The Centers for Advanced Orthopaedics (CAO) in 2019 to assist the growth of new physical therapy clinics, which will expand rehabilitative services offered by these distinguished orthopedic surgeons. She has contributed to the success of the rehabilitation division of CAO, and is excited to help the group further expand their services to the SOMD community.
Philosophy
Providing expert and exceptional patient care is a top priority for Rebecca. She finds it essential to examine patients' needs in a personalized manner. This includes consideration of nutrition and lifestyle to optimize outcomes. Her treatment approach stems from evidence-based practice, with a significant emphasis on manual and movement-based interventions. She is dedicated to providing high quality care to improve how individuals move and function through life. Rebecca is also a Direct Access provider.
Personal
Rebecca finds joy in regularly maintaining an active and healthy lifestyle. Her exercise repertoire includes running, HIIT exercise, and self-defense/MMA. She relishes spending time with her husband, Mark, and her daughter, Juliet. She takes delight in cooking, is a wine enthusiast, and finds house cleaning therapeutic. She is currently trying to embellish her baking skills. Rebecca is thrilled to become a part of the SOMD community as a recent Leonardtown resident.