Jennifer Jones, PT, DPT
Staff Physical Therapist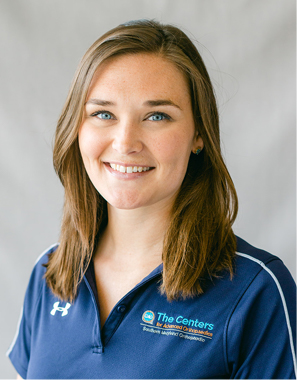 Jennifer (Jen) Jones is a Doctor of Physical Therapy who specializes in the post-operative and non-operative rehabilitation of orthopedic conditions involving the shoulder, spine, hip, knee, and ankle. Jen is currently a physical therapist at the California and Leonardtown CAO physical therapy offices.
Education
Jen attended Towson University for her undergraduate degree in Exercise Science, earned in 2012. She then went on to graduate school at The University of Maryland Eastern Shore, where she earned her Doctor of Physical Therapy degree in 2015. Jen has completed multiple courses following her schooling with a focus on pain management, sports rehabilitation, therapeutic exercises, blood flow restriction therapy (certified), and vestibular rehabilitation.
Experience
Since receiving her degree Jen has worked in different settings, treating a multitude of different diagnoses. She started out providing inpatient and outpatient care in the hospital setting. She then went on to become director at a local outpatient clinic for a few years. In 2019, Jen joined the outstanding CAO team, providing physical therapy in the Leonardtown location. Philosophy
Jen's treatment is based on the belief that each patient is different and each patient deserves quality care. Jen's patients can expect to have one on one care provided, and a plan of care based on their specific needs. It is Jen's goal that each patient will leave the clinic not only feeling better, but also having better understanding of their injury, further injury prevention, and proper movement techniques.
Personal life
Jen was born and raised in southern Maryland and enjoys everything that this area has to offer. When not at work you will find her spending time with her husband John, son Colton, daughter Savannah, two dogs Cooper and Piper. She also has a large extended family that she is with often. She enjoys being physically active and spending time outdoors. Jen is excited to serve the community that helped raise her.