Jason Blakey, PTA
Sports Performance Manager and Staff Physical Therapist Assistant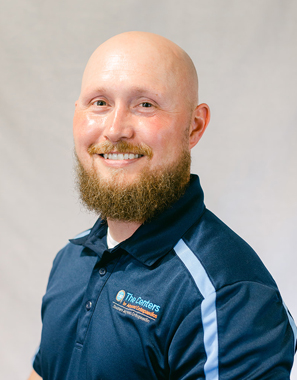 Jason Blakey is a physical therapist assistant (PTA) who joined the Centers for Advanced Orthopaedics (CAO) to develop CAO's first ever sports facility located in California MD.  He acts as the inaugural Sports Performance Manager, a role that he is excited to grow and develop.  As a PTA he brings his vast experience in the treatment of surgical and non-surgical injuries.  Jason has lived and worked in the Southern Maryland area for the past 16 years with his wife and two children.
Education
Jason is a local Southern Marylander attending McDonough high school and graduating in 2000. He then attended the CACHE Physical Therapy Assistant program at Anne Arundel Community College. He graduated in 2005 with an Associate's degree in Applied Science.   Jason has since developed into a well-respected clinician over the span of his 16-year career.  In addition, he has taken numerous continuing education courses with a focus on manual therapy, instrument assisted soft tissue mobilization, kinesotape, targeted rehabilitative exercise progression, and aquatic therapy.  Not only does Jason care about his patients, but also about fostering the next generation of rehabilitation professionals.  Jason has taken 14 students over the years and is an APTA certified clinical instructor.
Experience
After graduating, Jason worked as a staff therapist in Waldorf for 11 years then went on to manage a successful clinic in Clinton for the past 5 years.  In 2021, seeking to develop his career further and work closer to his family, Jason accepted the challenging dual position as a staff PTA and Sports Performance Manger with the industry leading surgeons at CAO.
Philosophy
Jason prides himself on providing the best one on one holistic treatment possible, focused on the patient's specific goals, deficits, and needs.  He feels that all treatments should include a combination of manual therapy, and a strong active component to foster true rehabilitative progression.  Spending time getting to know each patient that walks through the door is the standard for Jason, not the exception. Jason also utilizes the direct communication with the Centers for Advanced Orthopedics entire team, surgeons, PA-Cs, and nurses, to coordinate his patient's care. Jason is excited to work with and for his fellow southern Marylanders.
Personal life
Jason enjoys working out, relaxing with his family, playing golf, doing home projects and watching America's team (Dallas Cowboys) in his spare time. Family is truly the most important thing in Jason's life and without them he would not be the man he is today. Jason looks forward to working with his neighbors here in St. Marys as well as patients from surrounding counties.